Internships
I'm so glad you're interested in joining my team!
My office has three different types of internships that offer valuable learning opportunities and insights into how congressional offices and the legislative process works.
To be considered, please send a resume, cover letter, and a brief writing sample to nj12intern@gmail.com. In the subject line, please include which program you are interested in (D.C. Policy, Press & Digital, New Jersey).
If you are applying for the Press & Digital position, please include a one page sample of your digital portfolio as well.
The deadlines for applications are:
Fall semester: August 1st
Spring semester: December 1st
Summer Semester: April 1st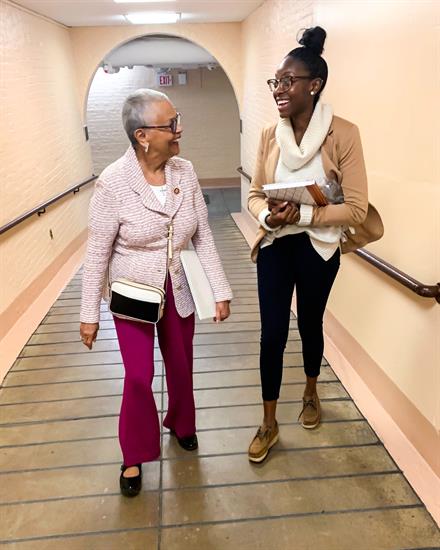 Rolling acceptance: The deadlines are provided as guidance for those who may be looking at specific semesters. However, we are always accepting applications and will continue to consider applicants as they apply, with the potential to accept interns mid-semester. To ensure that you are considered for the semester or time that you would prefer, please note your availability in your subject line. No drop by's please.
D.C. Policy
Our congressional policy internships offer a valuable learning opportunity for better understanding how congressional offices and the legislative process work. In the Washington, DC office, we offer Policy Internships throughout the year to individuals who are enthusiastic to learn more about public service through legislation.
In the Washington, DC office, policy interns' responsibilities include:
Answering phones and recording constituent concerns
Researching legislation for the Member and legislative staff
Attending hearings and briefings for staff and drafting memos
Responding to constituent letters on various legislative issues
Learning the legislative process through assisting staffers on projects
Press & Digital
Our communications team will work directly with you to get you hands on experience in a fast-paced Congressional press shop. Instead of attending briefings and hearings, you'll be traveling to press conferences, drafting releases, and assisting with social media strategy.
Your responsibilities will include:
Attending press conferences and assisting with videos and photos
Creating graphics and videos (you don't have to be an expert but you should be familiar with Adobe programs)
Drafting content and monitoring social media accounts
Assisting with press releases and floor speeches
District Office, New Jersey
My New Jersey office is located in Ewing. The hours are flexible to accommodate student's course schedules. Interns will be asked to assist with a variety of tasks that will help them gain better insights into the direct impact our Congressional office has on New Jersey's 12th Congressional District.
Your responsibilities will include:
Answering phones and recording constituent concerns
Assisting with casework intake
Writing letters and assisting with outreach programs
Attending community projects