February 10, 2023
Sen. Menendez, Rep. Watson Coleman Join with Middlesex County & Monroe Township Officials to Announce $1.1 Million for Flood Mitigation Planning
County will work with municipalities to implement flood management and mitigation strategies for inland communities
MONROE, N.J. – U.S. Senator Bob Menendez (D-N.J.) and Congresswoman Bonnie Watson Coleman (D-.N.J.-12) joined today with representatives of Middlesex County and Monroe Township to announce more than $1 million in federal funding for flood mitigation planning in the county. In recent years, the area has suffered repeated damage to homes and businesses from tropical storms.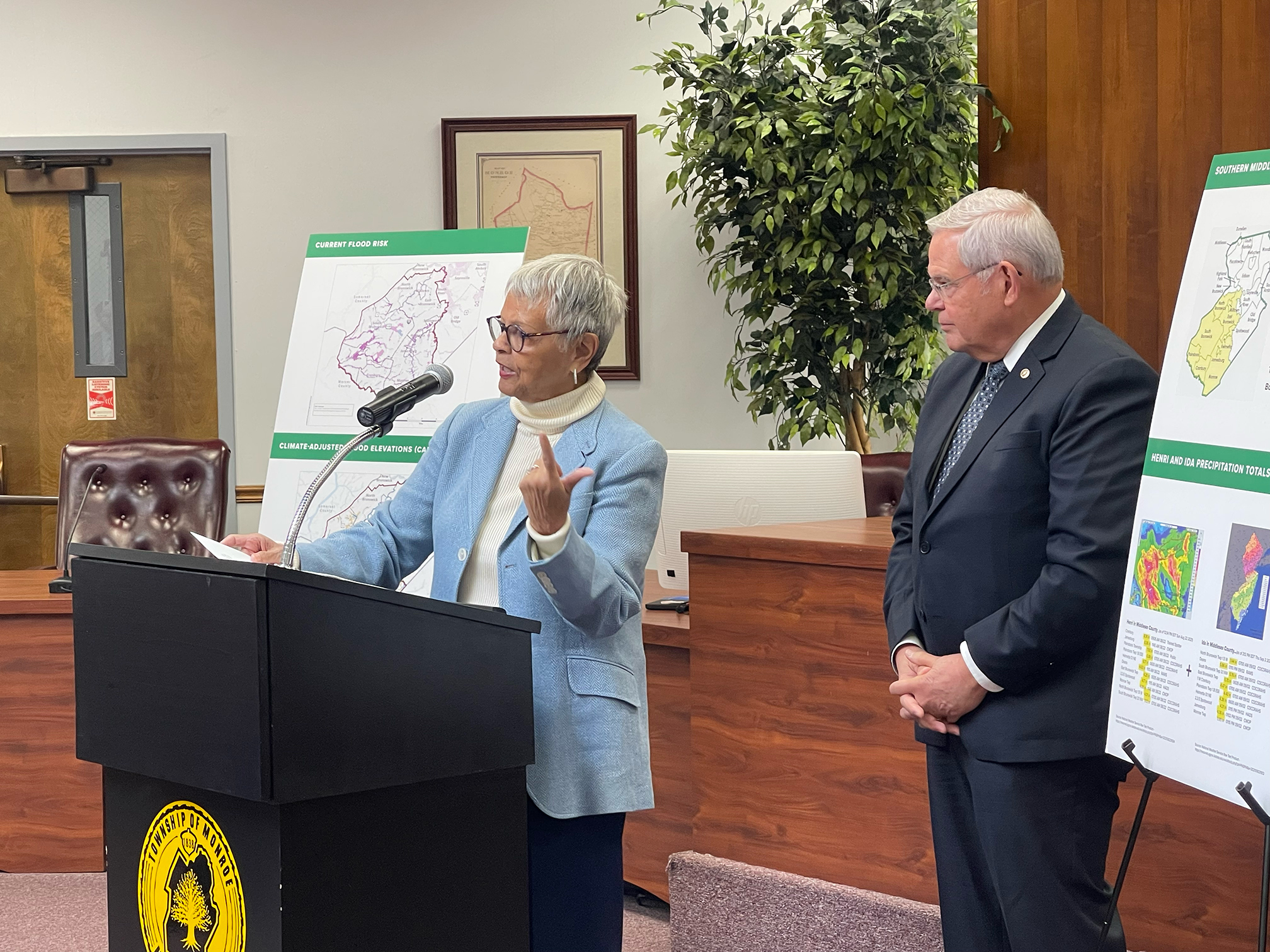 [CLICK HERE TO WATCH FULL VIDEO]
"Central Jersey has long suffered from deadly flooding. Due to climate change, that flooding is becoming more frequent and more severe. By acting now, we can protect generations to come," said Congresswoman Watson Coleman. "Unfortunately, we were unable to include Southern Middlesex County residents in FEMA coverage. However, I wasn't going to let bureaucratic red tape stand in the way of getting the County the support it needs to protect its residents. This investment in the Southern Middlesex County Flood Mitigation and Resilience Project is an investment in the region's future. As our state's only congressional appropriator I'm proud to deliver real results for Middlesex County communities."
"I'm proud to announce that more than $1.1 million of federal funding will be dedicated towards addressing gaps in flood resiliency planning in southern Middlesex County which in recent years has felt the devastating impacts of repeated flooding, including from Tropical Storm Henri and Hurricane Ida," said Sen. Menendez. "Working together with regional partners, Middlesex County will make sure that their work takes into account the most vulnerable and underserved residents to provide solutions that are equitable, innovative, and inclusive. And most of all, the team of experts will make strides towards adapting Middlesex County's infrastructure for a changing climate that promises to bring stronger storms more frequently."
"Extensive, costly damage from storms in recent years have shown the need to strengthen flood resilience in southern Middlesex County in the face of extreme weather events to come," said Sen. Cory Booker.  "I'm proud to work with Sen. Menendez and Rep. Watson Coleman to secure this federal funding to strengthen Middlesex County's flood durability and protect homes and businesses."
Middlesex County suffered significant impact from Tropical Storm Henri and Hurricane Ida in 2021 with more than $40 million in damages combined. The federal funding being announced will be used to develop the Southern Middlesex County Flood Mitigation Plan, which will improve flood resilience for extreme weather and precipitation events by identifying and addressing gaps in flood durability planning within the county as it relates to climate, equity, and resilience. The county will work with municipalities and other partners to implement stormwater and flood management as well as mitigation strategies.
"With this funding, we will be able to continue to identify and address gaps in flood resiliency within the Southern Middlesex County region," said Middlesex County Board of County Commissioners Director Ronald G. Rios. "It will also enable us to continue working with municipalities and our other valued partners to implement more effective mitigation techniques that will better protect our people, property, and key infrastructure – as well as the ecosystem here in Southern Middlesex County – from flooding in the future."
"Tropical Storm Henri was a major flooding event in Monroe Township, particularly in the Rossmoor Senior Community, and we need to explore long-term regional mitigations in response to a steady increase in storm frequency and intensity," said Monroe Mayor Stephen Dalina.  "We are thankful to Senator Menendez and Congresswoman Watson Coleman for funding this vitally important study by Middlesex County, that will lead to solutions in mitigating future flooding events."     
"I am grateful for the efforts of our federal partners, Senator Menendez and Congresswoman Watson Coleman, in securing additional funding to address flooding in Southern Middlesex County," said State Senator Linda Greenstein. "For almost a decade we have collaborated with local officials in order to find solutions that improve emergency responses to severe and repeated flooding in the area. These federal funds are a valuable next step in helping to identify and fight flood impacts."
"Tropical Storm Henri devasted the lives of many in Monroe Township in 2021. My colleagues in the 14th Legislative District and I have worked to secure state funds to address and study the mitigation of catastrophic floods in our area," said New Jersey Assemblyman Wayne P. DeAngelo. "I am extremely happy that Senator Bob Menendez and Congresswoman Bonnie Watson Coleman have heard the people of Monroe and have joined in the effort to secure an additional $1.1 million in federal funding for flood mitigation planning. This will allow the township to continue to keep those who are vulnerable to the effects of climate disasters safe."
"Monroe Township residents have struggled with extreme flooding for years, really experiencing the worst more recently during Tropical Storm Henri," said New Jersey Assemblyman Daniel Benson. "Combined with the state's previous grant, these federal planning funds will ensure that we find ways to keep our residents safe from the increasing severity of floods due to climate change. I applaud and thank our Federal partners for their commitment to residents by working to secure this much needed funding."
In addition to the Southern Middlesex County Flood Mitigation and Resilience Project, 14 other community projects in New Jersey's 12th District will receive federal funding in fiscal year 2023 totaling approximately $15 million. The projects receiving include infrastructure improvements, youth programs, health initiatives, and more.