May 22, 2023
Reps. Watson Coleman, Kim, Senator Menendez Join with Mental Health Advocates at Rider University for Discussion and Listening Session on the Mental Health Crisis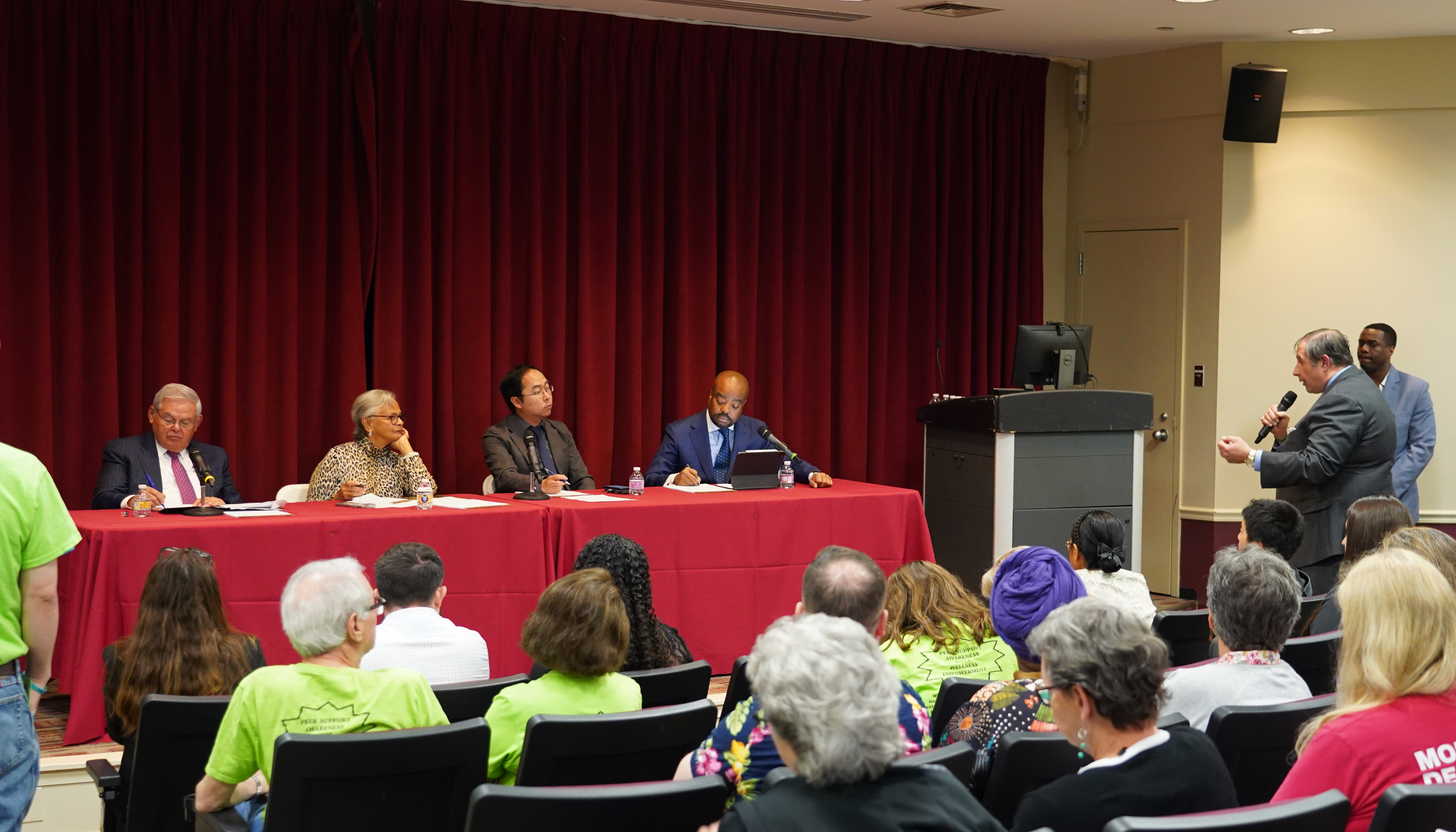 Lawrence Twp, NJ (Monday, May 22, 2023) - Today, Congresswoman Bonnie Watson Coleman (NJ-12), Congressman Andy Kim (NJ-03) and Senator Menendez (NJ) joined with mental health practitioners and advocates for a round table discussion and listening session on the campus of Rider University in Lawrence Township, NJ. 
In a discussion moderated by Dr. Michael A. Lindsey, Dean of the NYU Silver School of Social Work and Paulette Goddard Professor of Social Work, the three Members of Congress discussed the ongoing mental health crisis, specifically its impact on children, veterans, and seniors. 
Congresswoman Bonnie Watson Coleman, who last week reintroduced the Pursuing Equity in Mental Health Act, organized the discussion with local mental health professionals to discuss the cost of mental health inequities, alleviating the health and economic burdens of unmet mental health needs, and charting the path towards a more inclusive and comprehensive mental healthcare system. 
Attendees included Rider Provost DonnaJean Fredeen and Micah Rasmussen, Director of the Rebovich Institute, as well as representatives of First Lady Tammy Murphy's office and the New Jersey Department of Human Services. Also in attendance were members of National Alliance on Mental Illness, 988 Suicide and Crisis Lifeline, the Society for the Prevention of Teen Suicide, and the Central Jersey Family Health Consortium. 
"The Crisis we were facing had been festering for years before COVID hit and since then it has only grown worse," said Congresswoman Watson Coleman. "The isolation caused by being forced indoors for months; witnessing parents, grandparents, and loved ones die; the general stress that comes with the loss of jobs and the increase in diseases of despair all impacted our young people. Many of those young people did not have access to the resources they needed to cope. We have an opportunity, right now, to address this crisis and get a generation of young people the help they so desperately need."
"Every American should have access to mental health support when they need it," said Congressman Kim. "Right now we need to focus on breaking down inequities in care and increase access, affordability, and overall quality in American mental healthcare. There's no doubt we're in crisis. Congress has an opportunity to meet the moment, help break the stigma, surge resources, and help lower the cost of care. We must urgently step up to do so."
"The mental health crisis facing our country is one of the biggest challenges we must confront. Unmet mental health needs jeopardize the future of our young people, particularly in minority communities. Providing equity in mental health care access and reducing disparities among racial and ethnic minority groups is critical to how we confront this issue and build stronger, healthier individuals and communities," said Sen. Menendez. "It is fitting that we are coming together for this listening session in May, which is designated as Mental Health Awareness Month, and that we're doing this after introducing our landmark bill, the Pursuing Equity in Mental Health Act, just last week. This legislation is a positive step to ensure that public health agencies prioritize issues of mental health and suicide, especially in communities with high populations of people of color who continue to bear the disproportionate brunt of the COVID-19 pandemic. It is my sincere hope that together, with colleagues on both sides of the aisle, we can finally address this racial inequity in our mental health care system."
A recent study by the CDC reported that more than 1 in 5 US adults live with mental illness and over 1 in 5 youth between the ages of 13 and 18 have or have had a seriously debilitating mental illness. Suicide rates increased 37% between 2000 and 2018. In 2021, over 48,000 Americans committed suicide.
Video of the panel discussion can be found here.